July Newsletter 2023
Get ready for an exciting month of special offers and celebrations! We have some incredible opportunities for you to get involved and show your support for the Tyre Mentorship Program Community. Don't miss out on these amazing chances to be a part of something big!
TMP Special Offers and Big Wins
Don't miss the opportunity to join a small studio and UC Irvine for an exciting event called Exploring Design+ Ethics on August 3rd, 2023. In today's world, practices like encouraging addictive behavior, exploiting user data, and using manipulative patterns have become all too common in the products we interact with daily.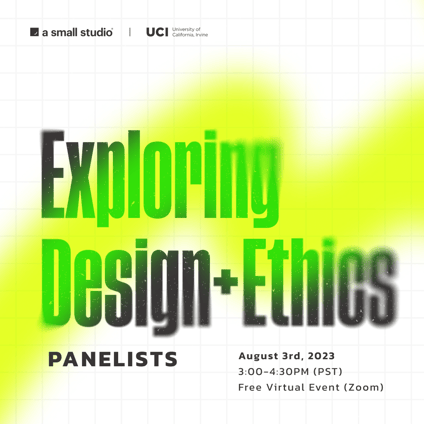 Fortunately, there is a growing movement in ethical design that aims to reclaim moral ground by empowering designers with a toolkit and shared values to guide their work and organizations. This event will feature a lineup of esteemed speakers, including John B Johnson, Principal, Identity Architect at a small studios.
Be sure to mark your calendars and be part of this important discussion on the future of ethical design and its impact on our lives.
And don't miss out on your chance to buy a small studio merch! Show your support for ethical design and the Tyre Mentorship Community by sporting stylish and unique merchandise from a small studio. So don't wait any longer, visit the a small studio website to get your hands on the latest and greatest small studio merch. Let's make a statement together and be part of something small!
Please consider attending the Ohio Justice & Policy Center's annual event on September 28th! "50 through 50" will feature a thought-provoking panel discussion that delves into the theme of 50 years of mass incarceration, intertwining it with the powerful narrative of 50 years of hip-hop. This unique and dynamic approach aims to shed light on the impact of mass incarceration on marginalized communities, while also showcasing the transformative power of music and art in driving social change.
This event promises to be an enlightening and inspiring experience, offering attendees the opportunity to gain a deeper understanding of the complex issues surrounding mass incarceration and the role that hip-hop has played in shaping the conversation. By attending, you will not only contribute to the ongoing dialogue on criminal justice reform but also support the Ohio Justice & Policy Center's vital work in advocating for a fair and equitable justice system.
Tickets and sponsorships for "50 through 50" are now available on the Ohio Justice & Policy Center's website. Don't miss this chance to be a part of a transformative event that merges art, music, and social justice to create lasting change. Join them on September 28th and let's come together to envision a future where justice and equality prevail.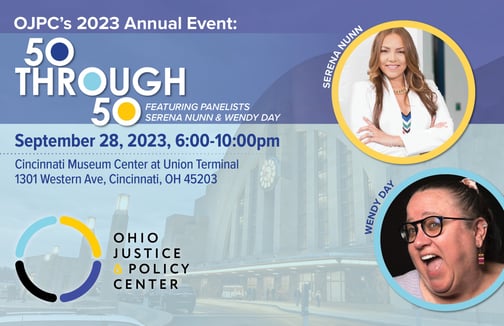 For more information and to secure your spot, please visit: https://ohiojpc.org/50-thru-50/
Exciting news awaits!
We're thrilled to announce the selected finalists for the highly anticipated Black in eCom Conference Pitch Competition, proudly sponsored by Black Ambition. These exceptional entrepreneurs have demonstrated remarkable innovation and a solid business acumen, carving their own unique paths in the dynamic e-commerce industry.
Let's celebrate the brilliance of these businesses:
- Cynthia Asije - Craftmerce Inc, transforming crafts
- Kristen Dunning - Gently Soap, revolutionizing personal care
- Jordyn Weaver - Forefront ATL, Inc., redefining urban living
- Joresa Blount - GoFlyy, Inc., pushing boundaries
- Ebony Glass - My Nude Shade, celebrating diversity
- Safir Monroe - UnDelay, innovating with flair
- Paul Owusu - Phreshly Brands, Inc., reinventing freshness
- Aasiyah Abdulsalam - The Renatural, going back to roots
- Raphael Babalola - TMPL, shaping the future
These finalists, chosen for their vision, passion, and unwavering commitment, are gearing up to compete at the pitch competition during the Black in eCom Conference. Join us for this exhilarating experience as they present their game-changing businesses.
Save the date: August 19th, 2023
Location: 3015 RN Martin St, East Point, GA 30344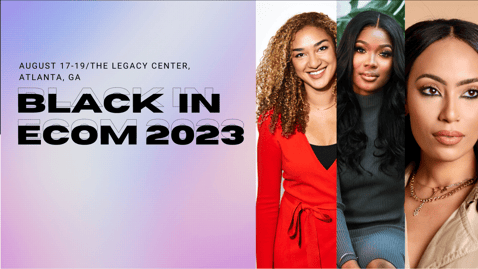 We urge you to secure your spot today! Visit the Black in eCom website and be a part of this innovative gathering.
Let's champion these talented entrepreneurs and immerse ourselves in the thrilling world of e-commerce at the Black in eCom Conference.

As the month of August rolls in, we can't help but feel a slight tinge of sadness knowing that summer is slowly coming to an end. But fear not, because there are still plenty of opportunities to make a difference and serve our community!
If you're interested in volunteering, all you have to do is send an email to Adrie Olson (aolson@hccfeed1.org) with the dates you'd like to participate. Hurry though, as spots fill up quickly and it's first come, first served. We're excited to have you join us and contribute to our mission of helping those in need!
Just a friendly reminder, we kindly request that volunteers commit to staying for the entire shift. This ensures that our center managers can maintain a smooth flow and allows our guests to shop in a timely manner. The shifts run from 8:30am to 12pm, so please plan accordingly. Thank you for your understanding and dedication to serving our community. We look forward to seeing you soon!
HCC North Phoenix (4744 E Thunderbird Rd Phoenix, AZ 85022):
All August dates have been filled at HCC North.
HCC West Phoenix (5608 N 27th Ave Phoenix, AZ 85017):
Thursday August 3
Monday August 7
Tuesday August 8
Thursday August 10
Monday August 14
Tuesday August 15
Thursday August 17
Monday August 21
Tuesday August 22
Thursday August 24
Monday August 28
Tuesday August 29
Thursday August 31
HCC Maryvale (4002 N 67th Ave Phoenix, AZ 85033):
Tuesday August 1
Tuesday August 15
Friday August 18
Tuesday August 22
Friday August 25
Tuesday August 29
Join us for our 6th Annual Water Drive!
You can contribute by showing up with a case (or 10) of water, donating to the company's Venmo account (@PhoenixStaff) and they will get the water themselves, or having water delivered to the office (address below). Whatever is easiest for you, but they would certainly love to have you stop by and say hello if that is in the cards at all.
With record-breaking temps hitting the valley, keeping our fellow Arizonans hydrated is even more important this year. All water donated will make it to organizations that ensure it gets to those in need. Last year they collected over 13,000 bottles of water and would love to CRUSH that number this year!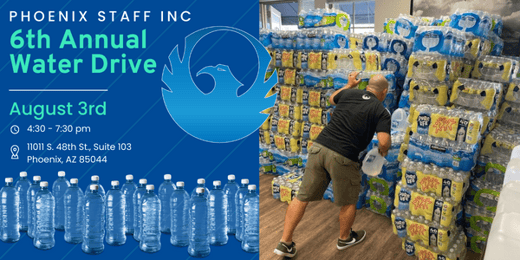 Thursday August 3rd, 4:30 – 7:30 PM
11011 S. 48th St, Phoenix, AZ 85044
A heartfelt thank you to everyone who has shown their support in previous years. Together, let's make this year's water drive the biggest and most impactful one yet!