March Newsletter 2022
This month, we're offering special offers, celebrating big wins, and opportunities to participate in revolutionary companies that make a difference in the community! See below for ways that you can increase your involvement in and support of the Tyre Mentorship Program Community!

TMP Special Offers and Big Wins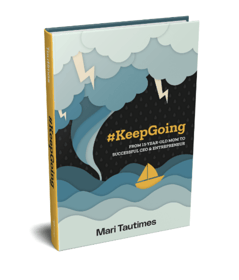 Our very own community member wrote an inspiring and amazing book. From 15-Year Old Mom to Successful CEO & Entrepreneur
Start on your path to success and the life you want to lead now–and don't look back.
Are you ready to take charge of your own life, but not exactly sure how to start? Mari Tautimes has created 7 Simple Steps to get you there! You will find yourself motivated to take action immediately, using Mari's empowering techniques to transform your life and propel yourself into taking action in ways you have never been able to before. Order it here: https://www.amazon.com/KeepGoing-Year-Old-Mom-Successful-Entrepreneur/dp/1642253448/ref=tmm_hrd_swatch_0?_encoding=UTF8&qid=&sr=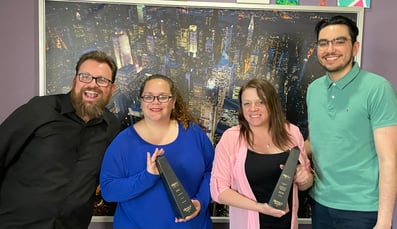 Tyre Mentorship Member Matt Seltzer and his team at S2 Research recently won a Pinnacle Award from the Public Relations Society of America (PRSA). S2 proudly conducts market research for marketing and communications teams, and in 2021, the team conducted a market research study of fitness brands that yielded insights, strategic intelligence and white paper content which was ultimately used to strengthen the thought leadership position of a nationally-recognized marketing agency in the health and fitness space. The work S2 put into the project was awarded one of PRSA's highest honors, and is a testament to all the hard work S2 Research has put in over the past few years. Congrats to Matt, Heather, B and Eric!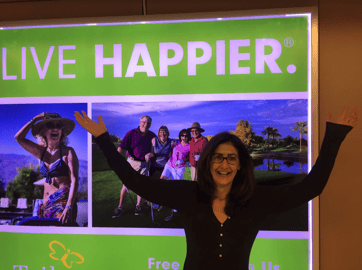 What I have found is that many remarkable high-achieving professionals find themselves with an underlying sense of unhappiness, dissatisfaction or dis-ease even when they reach the goals they set for themselves. And, others no matter how "together" they appear, when faced with that seems like an enormous life or work decision find themselves surprised and confused that they have no idea what is the right path. In both cases, there is something underlying at play, they are experiencing an unconscious internal struggle between what they truly want, and what societal pressures, or even their upbringing, is telling them what they should want.
To solve this problem they often try reaching out to friends, family members, or co-workers looking for guidance but that rarely works because everyone has their own biases and vested interest. Or they're looking to others for their answers when their true answers can only be found within.
To help with this I create a safe, unbiased and nonjudgmental space that is non-existent in most people's lives. Applying the wisdom of the ancient yoga tradition and other wisdom traditions with modern day coaching methods and tools I help my clients reconnect with their own inner wisdom. This method works because my clients are able to choose based on what they truly desire, not based on external pressures or what they think they are supposed to do.
As a result, my clients feel like a weight has lifted, and those who previously felt stuck feel a renewed sense of peace, clarity, and ease. They feel enlivened, more confident in themselves and their decisions, and a renewed sense of vitality and enthusiasm - with themselves, their work, and in their relationships.
Many of you know I've been concentrating my efforts on creating a coaching program for people suffering with digestive issues including IBS and IBD, but do you know I am still teaching yoga live online and providing individual coaching? For my schedule or more about the high-achieving professionals i help with coaching please go to yoga-for-joy.com I have two coaching slots about to open so please be in touch atyre@cox.net to explore if i can help.
Looking to invest in Revolutionary Companies?
Salesfolks is raising a pre-seed round. Over $130k committed so far from early investors including the former CTO of Salesforce. Interested in getting in early? Visit

https://invest.salesfolks.com
Salesfolks matches companies to the perfect salespeople. Access more millions of sales reps. Hire faster, smarter and save money (zero hiring or recruiting fees). Members of Tyre Mentorship Program can get a half-price subscription by emailing

hello@salesfolks.com.
Easy Matatu is a mass transit platform that is reforming public transport in Africa, starting in Kampala, by harnessing informal minibuses to provide reliable, safe and clean transit to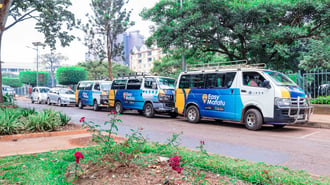 commuters. We've grown 400% in the last 4 months serving 16K monthly riders with a driver base of 200 and looking to scale further across Kampala. We've raised $550K to date and we're now working to close our $750K seed round. If you know someone who wouldn't want to miss the opportunity to help fix public transport in Africa (VC or angel) please reach out to Andrew Lema, CEO & Co-Founder at lema.andrew@easymatatu.com.
Social Impact

Join us on April 5-6, 2022 for 24 hours of giving! We are joining in the AZ Gives Day movement as
nonprofits across Arizona raise funds and awareness for their cause. Harvest Compassion Center's mission at our 3 valley locations is to provide food and clothing in a hope filled environment to the under served in the greater Phoenix area.
Your gift to Harvest Compassion Center on AZ Gives Day will provide free food for kids in need right here in our state. We also have an opportunity to WIN by participating in the April 6 th 7:00am Power Hour, so mark your calendars and help us provide food for those experiencing food insecurity in Arizona!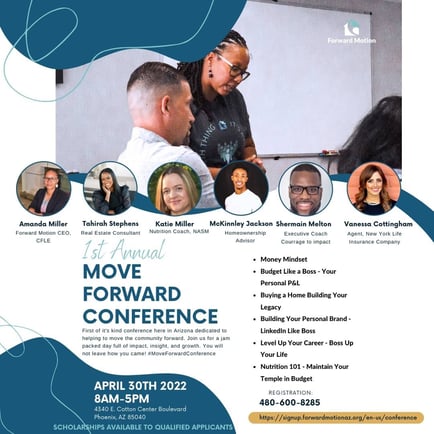 On April 30th 2022 Forward Motion is hosting a first of its kind conference focused on personal
finance, career development, and nutrition. This conference is targeting those who would otherwise not have access to important development opportunities like the expensive personal development conferences that people in high income brackets use to improve their lives and outcomes.
The first annual Move Forward Conference is being held at the Desert Willow Conference Center and is a full day (8am - 5pm) conference style event with industry experts in Home buying, personal finance, nutrition, career development, and life insurance. A full list of Speakers and sessions is located here along with the signup tools to reserve seats. Because we are a nonprofit we are offering this valuable content to the community at only $57 a seat. It is thanks to our generous donors that we are able to do this! https://signup.forwardmotionaz.org/en-us/conference.
Organizations can reserve seats for their employees however seating is limited in order to make sure every attendee receives the individual attention they deserve.
When asked why she developed this conference Amanda stated that "having access throughout my career to different development opportunities helped to provide me with knowledge that has been paramount to my success. It pains me that these types of events are not available to those who are in lower income or socioeconomic situations. We're changing that with this conference starting this year, and we ain't stopping!".
Any questions about the event or organization can be directed to info@forwardmotionaz.org or 480-600-8285. Our mission is "Creating Generational Prosperity One Family at a Time". We're here for the community!
We are still seeking sponsors to help support this event.
To make a difference you can make a direct contribution on our website at https://forwardmotionaz.org/donate or for corporate sponsorship inquiries please contact donate@forwardmotionaz.org.
You can connect with us in many different ways and stay informed of our programs, progress, and impact.
Podcast: https://getyourmoneyright.buzzsprout.com/
Social Media: FB & IG @Forwardmotionaz - Youtube: Moving Forward One Family At a time - Linkedin: https://www.linkedin.com/company/forward-motionaz/