October Newsletter 2021: Set goals, invest in revolutionary companies, and get inspired
Learn all about creating a vision for the next 5 years, investing in companies that are revolutionary, and get inspired by these uplifting stories and special offers!
Uplifting Stories
US Citizenship
Our very own Jose Martins recently received his US Citizenship! Reach out to him through Slack to congratulate him and show your support!
The Diaper Bank of Central Arizona is looking for your help to get diapers in the hands of low-income Arizona families during National Diaper Need Awareness We
ek (September 27th - October 3). 1 in 3 American families struggle to afford enough diapers to keep children
clean and
dry, and 60% of those families have had to miss work in the past 30 days because they did not have enough diapers on hand to provide to their daycare center. Many childcare facilities in the state require a daily or weekly supply of diapers to be on hand for a child to be allowed to stay - even if the facility is free or partially subsidized for the family. A lack of diapers cannot only affect a child's physical well-being but also a caregiver's ability to work or attend school.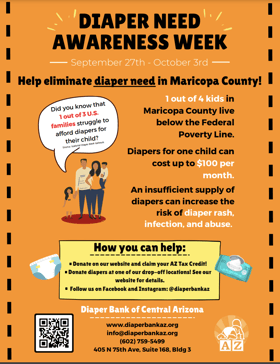 As the only diaper bank in the Phoenix area, the Diaper Bank of Central Arizona provides hundreds of thousands of diapers each year to 26 reputable non-profits that serve low-income families. In 2020 alone, over 7,500 children in Maricopa County received diapers that came f
rom the Diaper Bank. With many families still struggling because of Covid job losses, the Diaper Bank is looking to distribute 100,000 more diapers this year than it did last year. With your donation made in honor of Diaper Need Awareness Week, the Diaper Bank will be able to stock up ahead of its December holiday distribution. Claim your AZ Charitable Tax
Credit and make your donation today at:
www.diaperbankaz.org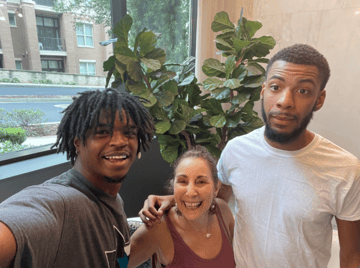 Meet Paetron and Jaelin. Paetron and Jaelin recently joined the TMP's Launch to Career Success – 1st Gen Tech program. After their exit from the military, Paetron and Jaelin began their new careersearch with Barbara to land in the Tech and Entertainment industry - Paetron in photography and film, Jaelin in music business. After a few weeks of coaching, Paetron landed a position with Nationwide Studios. Jaelin is planning his next steps and learning to network while gaining more business and tech knowledge through the
HubSpot Academy.
Giving a whole new meaning to "started from the bottom now we here" as Hansen Hunt shares his journey from battling suicide at rock bottom to building an unshakeable thriving foundation. Read here for the whole story - it's incredible!
Special Offers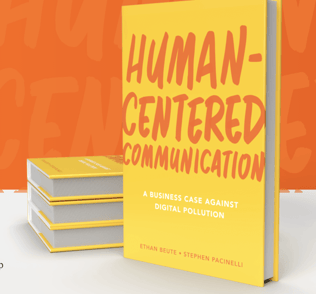 Let's face it: we're going to continue spending more time in digital, virtual, and online spaces. But they're becoming noisier and more polluted every day. Time, attention, and trust are more precious, limited, and fragile. So, how do we break through, earn trust, create engagement, and build relationships, reputation, and revenue - now and for the long term?
releases October 12 on Fast Company Press. In it, Dan Tyre and a dozen other experts deliver both strategy and tactics to help.
Click here
to review preorder bonus packages for 1 copy, 500+ copies, and any quantity in between. Look for an incredible value at 25 copies - everything in the package for only $600.75 delivered.
Looking to Invest in Revolutionary Companies?
GoStork is the only fertility marketplace where intended parents find, compare, and connect with top fertility providers. Our mission is to provide inclusive, trusted access to affordable fertility care. We have over 50 surrogacy agencies and over 10,000 egg donors (from many different egg donor agencies combined), as well as offer the ability to apply for fertility loans to finance your journey - all in one easy-to-use platform! We are 100% free for intended parents to use and are in fact the largest free database in the world. For those who would like extra assistance as they begin their journey - we also offer 1-on-1 concierge services to help answer your questions, inform you of your options and help you consider the best providers for you - also completely free of charge.
Over 6,000 intended parents from over 80 countries around the world have already joined GoStork, we've received amazing feedback from our users, and we're poised for incredible growth - particularly with our first-of-its-kind Fertility Clinics Marketplace launching in the coming weeks!
Overall, we envision a world where anyone with a dream to build a family is supported along their unique path to parenthood - and we are looking for investors who will support us in making this vision a reality. After successfully raising a $760K pre-seed round, we're now working to close our Seed round and still have opportunities to join us! If you or someone you know may be interested (VC or private investor), please reach out to our Founder and CEO, Eran Amir at eran.amir@gostork.com. He'd love the opportunity to share how his journey to fatherhood via Surrogacy, Egg Donation and IVF inspired GoStork, all of our exciting traction since launch, our robust roadmap ahead, and how we're truly disrupting the fertility industry.
In November, the nonprofit organization 1MISSION is hosting a gala at the Phoenix Art Museum. But it's not just any fundraiser. It's a celebration in honor of the families 1MISSION serves in Mexico, El Salvador, and Nicaragua – and an opportunity to impact the trajectory of even more families' lives.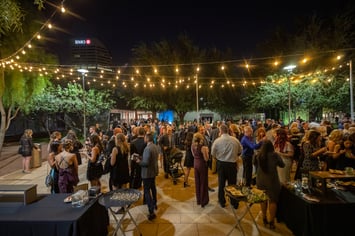 These families live in challenging circumstances, and the pandemic has only made matters worse. Due to poverty and lack of jobs, families in these communities often lack access to safe, secure shelter. But they're not letting it stop them. Instead, each family voluntarily serves hundreds of hours in their community through 1MISSION programs. And at the end of the process, 1MISSION builds them a house.
At the 1M Gala – being held on Saturday, November 6, 2021 at 6:30PM – hundreds of Arizona business and civic leaders, and other 1MISSION partners, will join together to make this work possible. It'll be an unforgettable evening with food and drinks, inspiration and laughter. And a lot of generosity.
And as a leader in the Arizona community, we're inviting you to be part of it. By sponsoring a table for $8,000 (personally or through your business), you have the opportunity to fund an entire house for a family that has already put in the hours of service to earn it. At the event, you will get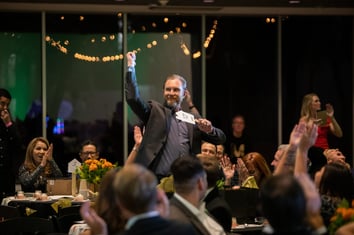 to celebrate the new house you have already provided, and your guests will be invited to partner with 1MISSION as well. 10 tickets are included with your table purchase.
Two years ago, at our last gala, partners like you raised $450,000 – fully funding 56 houses for families in need! This year, we believe we can make an even bigger impact, and you won't want to miss out.
To learn more about sponsoring a table at the 2021 1M Gala, please contact Nate Hughes, VP of Partnerships, at nate@1MISSION.org or (602) 550-0993.
TMP Vision Exercise 2021 -The Best Version of Me - a special thanks to Shaun Crimmins
Year-to-Date Professional Goals
Biggest learning experience
What was I afraid of or worried about then, that I'm not afraid of today?
Based on the last 6 months, what are some words your peers would use to describe you?
Are you pleased with that?
One year from now - Sept 2022
What do you want to own in the business? (resident expert in)
What will be the accomplishment you're most proud of?
What are you nervous about, worried about, or afraid of today?
What skill will you have acquired, perfected, or improved in the next 6 months?
Five years from now - Sept 2026
What will be your craft? (your specialty)
Who do you want to make proud?
What will you in 5 years no longer have to do that is part of your job today?
How will you describe yourself in 5 years?
Year-to-Date Personal Goals
What have you started to do in the last 6 months that you really enjoy?
Over the last 6 months, how would you describe how people have felt after spending time with you?
What is the greatest act of service you've done for someone else in the last 6 months?
One year from now - Sept 2022
What anxiety do you feel today that will go away in a year?
What will you have? (physically)
What will you give that you cannot give today?
If and when things go poorly, what do you want to remind yourself of?
Five years from now - Sept 2026
In 5 years, what do you want to have personally accomplished?
What do you want to have experienced in the next 5 years?
In 5 years, how do you spend your free time?
In 5 years, what is the superlative that your friends and family would give you?
What is a character flaw stopping you from becoming this person?
What is one thing you can begin to do today, to become this version of you in 5 years?
Motivational Momentum
3 People to call when I am feeling stuck or depressed
My top playlist
Images to go on my Vision board
I have gratitude for...
- Use this template to set your goals, or if you'd prefer a document to print, find it here